tiramisu cream puffs: coffee creme pat and marsala marscapone cream in a whole wheat choux with cocoa craquelin
To pack it all into one sentence: these cream puffs are made of a whole wheat choux with a cocoa craquelin filled with a coffee pastry cream, topped with a marsala mascarpone cream and dusted with cocoa powder. Texturally, it's a jumble of the best sort: the pastry cream contained within the cream puff is silky, the choux pastry itself is crisp, and the marscapone is rich and light. I did my best to taste and sweeten judiciously so that the sugar content was kept to a minimum, but it is still, through and through, a dessert. I am so bizarrely pleased with how they turned out. It's very hard to go wrong with the flavours of tiramisu!
These cream puffs are making me doubt my baking priorities a bit – sometimes I focus more on playing around with flavour combinations, and they usually taste fine or even quite nice but it's rare that I find something where the combination is just really so nice. I should rely on the wonderful wisdom of favoured combinations more often.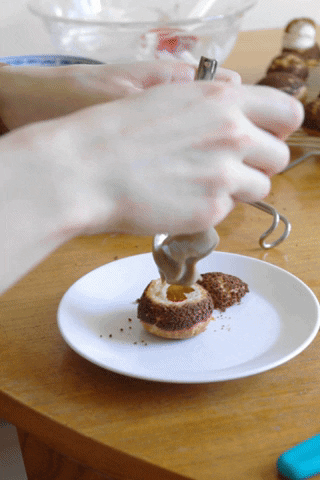 The choux are quite straightforwards to make. It just takes a bit of time to assemble all the components. The pastry cream is best made ahead so it can completely chill. The baked choux will be crispiest the day of, but they can also be made a day in advance, stored in an airtight container. The marsala marscapone cream is quick and can be made easily right before assembling.
So, to reiterate, the choux are quite straightforwards to make– and if you could hear my tone of voice, there would be an unsaid "but…" hanging after that sentence. They really are, but I did encounter an wrinkle. I suspect it's just another me problem though – I tend to apply new techniques incorrectly, create a whole bunch of problems for myself that actually don't need to exist for most reasonable people, and then struggle to solve them.
In this case, it was trying to get 100% coverage of the choux pastry with the craquelin or cookie topping. I remade the choux a few times to try to get the right balance between size of the puff and the amount of craquelin.
Some of my difficulties stemmed from my starting point, which biased my approach. The very first time I made choux à craquelin, I was making bubble eclairs. I learned to err on making the craquelin smaller because the units would not fuse into an eclair if the craquelin draped too far down the edges. Following that technique, the craquelin only reached midgirth when I really wanted to achieve a full jumpsuit type look (very in!). I don't think it's difficult, but in typical fashion, I made it quite difficult for myself. At least there are some teachable moments to be gained from a couple more batches of choux:
#1: in some batches I piped the mounds of pastry so tall such that even if the craquelin was the same diameter as the puff, the craquelin wouldn't be large enough to drape over and cover the sides
#2: in one batch I also made rounds of craquelin much larger in diameter than the choux (to compensate for #1 above). Unfortunately in this case the edges formed little folds around the puff that baked up crisped and burnt instead of draping gracefully over the puff
#3: I also had issues with large fissures in the craquelin on the top of the puffs in some batches. Perhaps this was due to puffs that were a bit too large such that their oven-fueled expansion was too fast for the craquelin? Or perhaps it was because I rolled out the craquelin too thinly–if it was too delicate, it could have split into large pieces early on in the expansion phase instead evenly fracturing near the end.
The solution: the probably rather intuitive key to getting coverage is piping the choux not too tall and cutting the craquelin the same diameter as the choux [see photo above]. It's not as complete choux coverage as I had wanted – I estimate I'm at about 80% – but it was progress from my first batch. I also figured it was time to stop trying as I was getting tired of eating reject puffs, though as a barely sweetened and 100% whole wheat snack, they're not too bad. (Any thoughts on maximizing choux puff coverage? I appreciate any words of wisdom!)
Luckily, regardless of one's craquelin-choux coverage, the taste will be there.
tiramisu cream puffs
The choux recipe makes enough pastry for 12 puffs. The filling recipes make extra, enough to fill around 18 puffs.
cocoa craquelin
Adapted from the cream puff cookie topping from Bouchon Bakery by Thomas Keller and Sebastien Rouxel. Makes plenty – you might have leftovers, but you can cut them it into circles and freeze it for further baking.
28g brown sugar
20g whole wheat flour
6g cocoa powder
17g butter
Mix all ingredients together until it forms a cohesive dough. Place the dough between two sheets of parchment and roll out to a thickness of 1-2mm. Slide onto a pan and freeze until firm.
whole wheat choux
Adapted from Alain Ducasse via Food and Wine. Makes 12 medium puffs. As the filling recipes make extra, feel free to make a 1.5X recipe of the puffs!

29g or 1/4 stick of butter or about 2 tbsp
30g/2 tbsp water
30g/2 tbsp milk
good pinch kosher salt
1 tsp sugar
30g or 1/4 c whole wheat flour
1 large egg
Preheat the oven to 400F. Line a baking pan with a sheet of parchment paper – on the backside, trace 12 3.5cm circles.
In a saucepan, brown the butter. Let cool a bit before adding the water, milk, sugar and salt, then bring to a boil, add the flour and quickly mix in with a wooden spoon. Lower the heat and continue to cook the mixture until it forms a ball. Remove the pastry from the heat and let cool slightly before adding the egg, a bit at a time, beaten into the pastry most easily with the aid of a wire whisk. The dough should now be shiny, but not fluid.
Transfer the pastry to a piping bag fitted with a large round tip. Pipe mounds of pastry onto the 3.5cm circles, each approximately a tablespoon-ish in size. Take the craquelin out of the freezer and cut 3.5cm circles from the dough. Top each puff with a round of the craquelin.
Bake for 15 minutes at 400F, then decrease temperature to 375F and bake 15 minutes or until puffed and well browned. Cut a small slit on the side of each puff to let the steam release and let cool on on a wire rack.
coffee pastry cream
Adapted from Alice Medrich via Food52.. Makes around 1 cup, or enough to fill around 18 choux puffs. Sweeten more to taste; I prefer it quite minimally sweetened.
1 c milk
1 cm length of vanilla bean, split
1 1/2 tsp instant coffee powder (preferably the super finely ground coffee bean variety)
2 1/2 tbsp sugar
13g rice flour
2 egg yolks
For the pastry cream, warm the milk until scalded. Scrape the seeds from the 1 cm of vanilla bean, score the pod, and add both seeds and pod to the milk. Whisk in the coffee powder. Let infuse around 10 minutes.
Meanwhile, whisk the sugar and rice flour in a small saucepan. Whisk in a bit of the milk, a couple tablespoons, until smooth, then whisk in the egg yolks and the remaining milk. Over medium heat, warm the mixture until it just begins to bubble. Continue cooking, whisking constantly, for 5 minutes or until nicely thickened.
Pass through a fine sieve into a bowl, cover with plastic wrap pressed against the surface, and chill.
marsala mascarpone cream
Makes more than enough cream for 12 puffs, likely enough for around 18 depending on how much is used per puff. Sweeten more to taste; I prefer it quite minimally sweetened.
135g mascarpone
2 tbsp marsala
2 tbsp granulated sugar
1/2 c (120g) 35% cream
Mix the mascarpone with the marsala and sugar. Whip the cream until stiff and fold into the mascarpone.
assembly
Slice the top quarter off of each choux puff with a serrated knife – as you cut just a little bit of the craquelin will be dislodged, but it won't be a noticeable amount.
Spoon or pipe the coffee pastry cream to fill the base of the choux. Next, fill a piping bag fitted with a large French piping tip with the mascarpone marsala cream and pipe a swirl of cream over the top of each choux.
Place a spoonful of cocoa powder into a small sieve and dust the top of each choux. Lastly, place the "lid" at a jaunty angle over the cream.